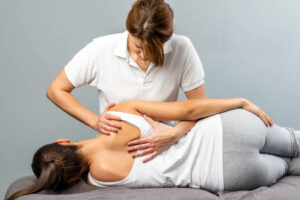 Are you suffering from pain? Looking for a way to recover and feel better? Not sure if you need physiotherapy? Or chiro? Or osteo? Then look no further than physiotherapy in Jersey, Channel Islands with the Jersey Sports & Spinal Clinic. With our experienced and qualified professionals, you can trust that you are in good hands.
At our clinic, we have a broad-based knowledge of physiotherapy and specialise in various areas. Whether you're dealing with Sports Injuries, chronic pain, or post-surgery recovery, we have the expertise to help you.
Not only can physiotherapy help alleviate pain, but it can also improve your sleep and overall performance. By addressing the underlying issues causing your pain, we can help you achieve better sleep quality and enhance your physical performance.
Our team is dedicated to providing personalized care tailored to your specific needs. We take the time to understand your condition and develop a treatment plan that suits you best. With our guidance and support, you can expect to see significant improvements in your well-being.
Don't let pain hold you back any longer. Contact us today to Book now a consultation and start your journey towards a pain-free life. Remember, with physiotherapy, you can recover, feel better, sleep better, and perform better. Click on the link  and Book now and start to feel better today.