Firstly a huge thank you to you and the team for keeping me together and in one piece for yet another year. I went up to the Lake District last weekend to attempt the Lakeland 100 ultra marathon again.
As you know I was still on crutches back in November post my op on my hip. In January\February you wisely put me onto the couch to 5K program to build me back up.
Although not done with any style and I was at the very back of the field with my slowest time ever, I'm pleased to say I completed Lakeland 100 within the cut off time. I can now claim that with the support of the JSSC I have completed the couch to 170k.
The event for me was a bit of a gruelling run, walk and crawl ( mainly crawl) through mud, bogs and flooded paths whilst enjoying the Lake District's finest summer weather of high winds and sideways rain.
I came out of it reasonably unscathed having very few problems with my hip or my knee. Although for the first time I think I have got a shin splint or something in my right shin. At mile 50 it started hurting and was particularly sore when I ran on the tarmac sections but being an off road ultramarathon these sections were fortunately very short.
On finishing the event my shin had marked bruising, my ankle swelled up and it was generally sore. I have been icing it up and trying not to put too much stress on it but it remains troublesome.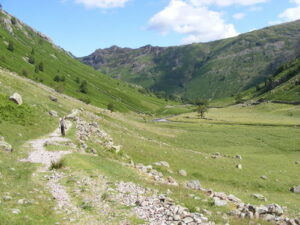 Thanks again for all your support and help. Without your help I wouldn't even have got to the start line let alone completed an event that had c.45% drop out rate this year.
Thanks again for all the support.
"Get your goal to work towards"
— Simon