The Jersey Sports and Spinal Clinic is pleased to welcome Katie Guest to the team as another new therapist. Katie is a Soft Tissue Therapist, offering sports massage and soft tissue therapy, and joins our other recent recruit, Physiotherapist Claire Boote.
This will be a great compliment to our physiotherapy treatments and supports a wider treatment offering h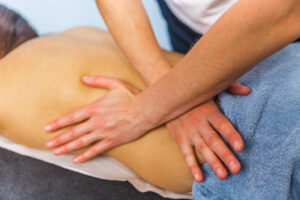 ere in Jersey.
Sports Massage is ideal for any minor aches and pain, chronic or acute. It can support injury rehabilitation and injury prevention. It is suitable for those who are very active, e.g. runners, rowers, and cyclists but also those who sit at a desk all day at work and suffer from a sore neck, back, or shoulders for example. Above all, it should make you feel good, able to move better, and better equipped to carry out your daily activities pain-free.
Katie moved over to Jersey with her family in the of summer 2022 and brings a wealth of experience, having worked in multi-disciplinary clinics, with Corporates for their well-being programmes, and also with England Dodgeball. Katie is currently a keen rower, having made the fun transition from river rowing to coastal rowing, and previously competed at a high level in netball and swimming. She also enjoys sea swimming and stand-up paddle-boarding when she has time as she is also a busy mum.
You can find Katie online on our online booking system or you can call the clinic on 01534 490312.